Automated box opening robots
Product Overview

The IBOD System: Intelligent Box Opening Solutions
The Intelligent Box Opening Device (IBOD) is an inline, pass-through box opener for automating manual box cutting operations. The IBOD has built-in intelligence, measuring the size of every incoming case to automatically find the programmed cut lines. Boxes can be fed in pre-set size order or in mixed order without the need to run batches of the same size.
The IBOD is fully programmable and comes in two variations, depending on your box opening needs. The IBOD Single is capable of cutting the top cases at rates up to 500 cartons per hour, and the IBOD Duo is capable of opening up to 900 cartons per hour.
The IBOD is available in three main cutting configurations: box top, front pick window, and tape seal cuts. It is completely automatic, self-feeding, and self-aligning. The IBOD uses photo optic and linear displacement measurements to derive the dimensions of each box as it is automatically captured and positioned for cutting.
A programmable motion device transforms the prescribed cut pattern to each box size. Blade stops and a box snugger are used together to give the cutting robot a squared and stationary target. The IBOD robot then uses software-controlled automation to cut boxes according to precise specifications defined by the customer.
The IBOD features heavy welded steel frame construction with main frame components fabricated from 100mm welded steel tube with heavy gauge steel panels and guarding. The front side panel and access door is 18mm thick acrylic for rigidity and safety.
Why automate box opening?
Manual box opening can be slow and labour intensive, while working with knives can result in minor accidents, cuts and lacerations for workers. Automated box opening, thanks to the IBOD, improves productivity, eliminates injuries, and minimizes the damaged product associated with manual box opening.
The IBOD is the only patented automated box opener on the market!
IBOD Options:
Automatic Blade Changer
IBOD models are available with an optional automatic blade changer (ABC) that senses dulling blades and changes them automatically in seconds. The "ABC" provides IBODs with significantly less blade changing time maximizing throughput.
Cut Options
IBODs can be equipped with the additional programming and tooling for a window cut for easier picking during the order fulfillment process or a top tape cut to preserve the box for reuse.
Automated Case Extraction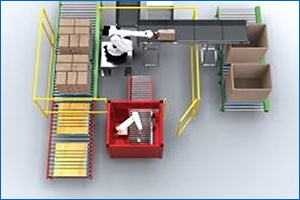 Automated Case Extraction is an add on module that removes the lid and empties the case contents of cartons into bins or on conveyor after the box top has been cut by the IBOD. Custom solutions can be developed for most scenarios.
As well as our box opening robots, we offer a range of logistics solutions including box packing robots and palletising robots.